SEO Services in Bangalore
SEO Services is a part of our marketing strategy that helps companies with search engine ranking. There is a live demand for qualified content for highly competitive and relevant search terms in today's world. Our search engine optimization service for businesses in Bangalore benefits them with web optimization for lead generation.
Curious! What are these SEO services all are talking about in the marketing world?
Search engine optimization is the process of strategically increasing the visibility of a website or a web page in organic search results. It is a marketing method used by businesses and individuals to increase the number of visitors to their website through organic search engine results.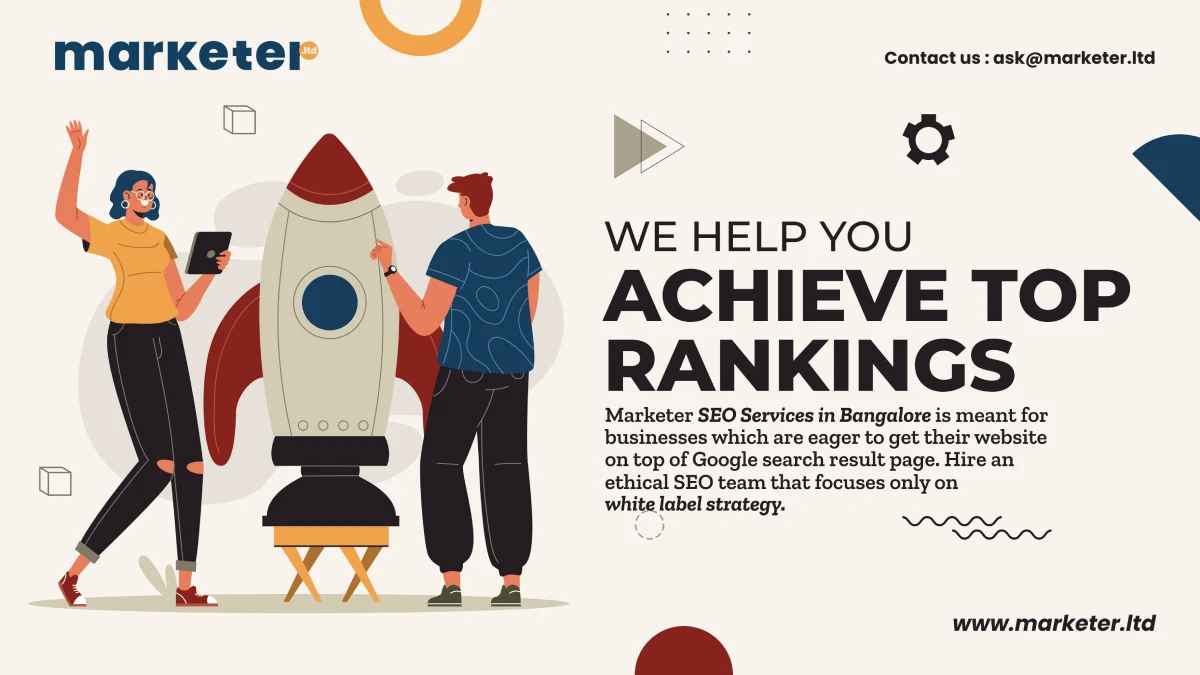 SEO Services from Marketer can help you rank your website on top of SERP for highly competitive and relevant search terms. Search engine optimization brings traffic, sales, and leads from organic visits. Overall, SEO Services in Bangalore can help your business grow.
How does SEO work?
Search Engine Optimization is an integral part of marketing, so businesses need to understand how it works and what it entails.
Search engine optimization can help your business rank on top of SERP for highly competitive and relevant search terms. But to achieve the top spots, there are a few steps that we follow in SEO service.
Analyzing client business & market
We need to understand your business model, target audience, competitor's web presence, what search terms your target audience is using, and more.
Finding relevant key phrases
The next step is figuring out what keywords are relevant to your business.  After proper keyword research, we prepare a list of terms that can bring customers to your business.
Add content & proper structure.
After we find all the relevant terms regarding your industry, services, and products, we create content accordingly for your site. The content is optimized for each keyword to bring the best possible results. Further, we fix the site navigation structure to make it easier to use
Optimize the website & content
Lastly, we optimize your content for search engines. Work on your website's EAT (effectiveness, authority, and trustworthiness). Retest all possible mix-ups of content to find the best one which has the potential for stable ranking.
Marketer offers a range of SEO services in Bangalore, which include:
Keyword research
Off-page SEO
How can SEO services help your businesses in Bangalore?
When it comes to attracting new customers to your business, SEO helps increase online sales. With over 5+ years of experience in the SEO industry, we take pride in offering the lowest-priced SEO services.
We offer the most competitive prices, the most experienced team, and relevant results. We've helped thousands of businesses rank their websites on top of SERP for highly competitive and applicable search terms.
It has been said that "If you can rank on the first page of Google, your business is going to explode." So if you're looking for a company that can help you rank your website on top of SERP, we can help.
We serve many industries in Bangalore and help them achieve the desired results in rank, leads, and overall growth. You can hire us for
Real estate SEO services
Healthcare SEO Services
B2B SEO services
B2C SEO services
How much does SEO cost?
SEO services cost in Bangalore depends on the competition. Local SEO services can cost you ₹ 15,000  or more, depending on the location. Whereas for more competitive niche the prices can go up to ₹50,000
For a small business digital marketing, you can choose to invest in SEO. Hiring an SEO company can be a good idea for larger businesses because it can cost an entire team of experts to complete a project.
Some businesses have seen an increase in traffic from organic visits from 200%.
SEO services can be costly, but they are worth the investment when done well. If you do not have a marketing budget, you should consider outsourcing your SEO work to someone who can do it for you.
Marketer company can help you rank your website on top of SERP for highly competitive and relevant search terms.
Benefits of SEO
When businesses are not using SEO to rank their website on top of SERP, they are missing opportunities that can bring in from organic visits. As a leading and trusted SEO agency in Bangalore, we ensure that your website is optimizing for the right keywords that your business is targeting.
The benefits of SEO are endless.
You first want to decide what your business will work on and what your goals are. If you are a start-up, you should focus on building your brand.
We optimize for highly competitive and relevant terms if you are an established business.
To do this, we ensure that you are using your keyword research correctly. We work on a keyword list of 10-20 keywords with a minimum of 100 search results per keyword.
By optimizing your site for keywords, we're making it more likely that people will find you when looking for what you have to offer.
Traffic, sales, and leads result from the higher placement in the search engine results pages (SERPs), which is what SEO is all about. SEO is the best way to get your site to rank highly for your target keywords.
How long does it take to rank one via SEO?
It takes an average of 7-10 months to rank one on Google. Search Engine Optimization is not a one-time thing, and it is a process that takes time and effort. SEO is a massive part of our business at Marketer.
We offer SEO services in Bangalore to business owners that want to rank their website on top of SERP for highly competitive and relevant search terms.
The more you higher your website rank, the more visits you will get. When you get these visits, you are going to attract prospects. We work with you to understand your goals and make them happen.