Ecommerce Website Design Services
Ecommerce websites are an important part of a company's selling products. A good ecommerce website design can have a huge impact on sales, while a bad one will either be ignored or create frustration for customers. Because of this, it is important to get the best ecommerce website design services.
Do you have an ecommerce business?
Have you ever stopped to think about whether your ecommerce business working for you or not?
If the answer is 'no' then keep reading; if it's 'yes', do some objective analysis on how well they've been working.
You may find that despite all the time, energy, and money you've invested in your ecommerce website design, they may not be giving you a high return on investment. Fortunately, it's easy to spot the problems with your current ecommerce website design services. Here are some questions to ask you:
Is my website difficult for me to manage? If I could change one thing about my website, what would it be?
Are my customers able to find what they're looking for on my website? If not, how can I make it easier for them?
How is my website performing compared to my competitors'? What can I do to make it better?
Am I happy with the design of my website? If not, what can I do about it?
Does my website look professional? If not, why is that important to me and how can I fix my ecommerce website design services to achieve my goals?
There are several ways you can improve your ecommerce website design services with just a few simple questions. Once they're answered, you can take action to make things better.
If your ecommerce website design is giving you the results you want, congratulations!
But,
If you're not happy with your current ecommerce website design services, ask yourself why. Perhaps it's time to take action and have a new ecommerce website designed from scratch so you can improve upon what you already have. Hire Marketer.ltd for an ecommerce website redesign.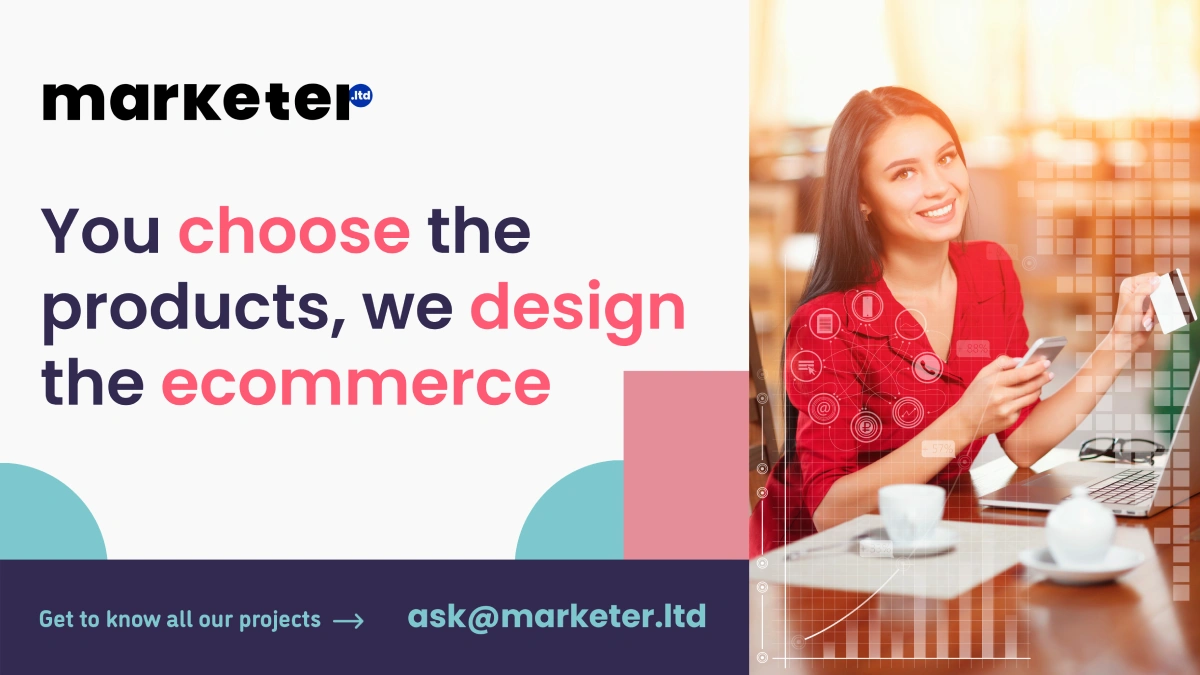 Planning to start your ecommerce business journey?
Recently the overall e-retail sales surpassed 4.2 trillion US dollars worldwide as per Statista. This shows the rapid growth in the ecommerce industry. No wonder, you are planning to start your ecommerce venture. But the first thing first, you need a powerful ecommerce website.
Many people start their ecommerce journey with great things in mind but end up giving up because of poor sales. But businesses that start their journey with our ecommerce website design company always reach their objectives. Our ecommerce website designers not only focus on listing your products, but we also focus on how to make the navigation smooth. Because we are not just helping you sell products, we are building a site that can sell itself.
We always go an extra mile for our customers
We take advantage of new features and platforms that will help you improve your ecommerce website growth. If management isn't on board with this, we explain the benefits of these features and how they'll help you serve your customers better. Further, our services include
Keep track of your website's analytics so you can see how it's performing and make changes as needed.
Use A/B testing to determine which design changes work best for your website and your customers.
Stay up to date with the latest design and management features offered by your website platform.
How do we create a good ecommerce website for our customers?
Many elements go into the design of an ecommerce website, but they all share certain commonalities. One of these is ease of use. While it may take more time to create a site with simple navigation and functions than one with fancy graphics and complex menus, the times saved by customers will more than make up for it.
Another key element we consider is a consistent design that carries throughout the website. This gives customers a sense of familiarity and trust. They will know what to expect when they enter a page, and they will be less likely to become frustrated or lost. The consistent design also makes it easier for customers to find what they are looking for, and therefore more likely to buy.
Designing an ecommerce website that will be successful is a challenge, but with our good planning and strategies, it can be achieved. The first step is deciding what features and functions the site should have, and from there choosing between a simple design or one with lots of bells and whistles. Whichever route is chosen, we make sure that the customer is always the focus and that ease of use is a top priority. With these things in mind, it will be much easier to create an ecommerce website that customers will love and trust.
Our ecommerce website design process
When it comes to creating an ecommerce website, the design process is of utmost importance. This is because the design will determine how well your website will function and how appealing it will be to customers. To create an effective ecommerce website design, we consider the following:
The layout of your website
The layout of the design should be simple yet direct. You want to make sure that visitors can easily access the features they want on your site. Our website designers for eCommerce websites use a top menu bar where customers can click through menus to find exactly what they are looking for. This menu bar is usually placed at the top of the page and includes links to options such as "home", "about us", and "contact us".
We make eCommerce websites with efficient navigation, easy to use, and not overcrowded. It's important that your customers can find what they need on your website quickly. For this reason, we avoid placing too many options in your top menu bar or within sidebars or footers of the site.
Colors and theme of your website
The color scheme and theme of your website will largely depend on what type of products you are selling. However, it is important to make sure the design matches the overall feel of your business.
Images that will be used on the site
We make sure that images on your website are relevant and representative of the product they are selling. It is also important not to overuse stock images. In addition, we add pictures accurately depicting the product they are trying to sell so there are no surprises when customers receive their item in the mail.
Your target audience
We always consider your target audience when designing your eCommerce website. If you are targeting a younger demographic, we may use brighter colors and more modern designs. If you are targeting an older demographic, we suggest using more traditional colors and designs.
Functionality of the website
The functionality of your website is another important aspect to consider when designing your ecommerce website. If you are going to be selling digital downloads, you will need a site that is fully responsive and able to handle large files. In addition, we make sure that the site is equipped with any features needed for your products such as shopping carts, image galleries, video galleries, etc.
Conversion rate optimization techniques
To increase your conversion rate, you may want to consider using various conversion rate optimization techniques. You can learn more about these techniques by doing some research online or hiring Marketer.
Finally, your ecommerce website must integrate well with social media sites and other marketing and advertising platforms. This will help you reach a larger audience and increase traffic to your website.
By following these design practices we create a well-designed ecommerce website that is appealing to customers and easy to use. Your customers will be able to find what they are looking for quickly and easily, and they will be more likely to purchase from your site.
Common ecommerce website development platforms we use:
Magento Development
OpenCart Development
PrestaShop Development
WordPress Development
Custom Development
Shopify Development
Reasons to select our ecommerce Development Company
There are many factors to consider while selecting Marketer as your ecommerce website design services provider.  Here are some reasons why you should choose us:
Our team has a wealth of experience in designing and building successful ecommerce websites.
We have a proven track record of helping our clients achieve their goals faster.
Our streamlined development process helps us keep our costs low and plan to stay on target for your launch date.
We provide high-quality work without the expensive price tag, which is why we are one of the best eCommerce website design services providers available today. If you're interested in learning more about how we can help you, mail us at ask@marketer.ltd.
Hire Marketer for ecommerce website design services
We offer a wide range of development services from custom ecommerce websites, mobile application development, and much more. Our developers are experts in using cutting-edge technology to solve complex problems.
We have a team of highly skilled and experienced professionals who can help you with all your web solution needs. We are always up for a challenge and we love working on new and innovative projects. So if you're looking for a company that can provide quality services at a low cost, you've come to the right place.
Further, if you want to make your website more successful. We also provide ecommerce SEO services that help you rank the products on search results.