Ecommerce Website Design Services
Marketer is a leading web design agency specializing in custom ecommerce websites. For over 10 years, we have helped small businesses launch beautiful online stores. Our talented team of designers and developers will partner with you to create a high-converting ecommerce site to grow your business. Marketer designs and develops custom ecommerce websites that convert visitors into buyers. For over a decade, we've partnered with businesses to create beautiful online stores that drive sales. Our talented team will craft you a mobile-friendly ecommerce site with compelling visuals, intuitive navigation, and features tailored to your business needs. Let us handle the website details so you can focus on your products and customers. With Marketer, you get the online storefront you need to grow your business and sales.
Want to Take Your Products Online? Marketer Builds Sales-Driving Ecommerce Sites
Imagine an online storefront for your business, attracting new customers 24/7. An ecommerce website lets you sell your products globally and automate the buying process. But creating an effective ecommerce site takes skill.
Marketer has over 10 years of ecommerce website design experience. Our talented team will partner with you to build an online store that fuels business growth.
We Design High-Converting Ecommerce Sites
Our designers focus on visuals that stop scrolling and imagery that engages. Our developers hand-code using the latest techniques for speed and security. Together we craft sites that convert by combining sales psychology with superb aesthetics.
You Get The Full Package
With Marketer, you get end-to-end ecommerce website services:
Experienced Strategy and Design
Web Development / Ecommerce Platform Integration
Compelling Product Descriptions and Content
Intuitive Catalog Navigation and Checkout
Promotions, Reviews, Recommendations, and More
We Handle the Details, You Grow Your Business
Our structured design process includes discovery, wireframing, visual design, development, testing, launch, and ongoing support. You get a polished ecommerce site plus the knowledge to update it.
Let our ecommerce experts craft your online store today! We drive results by combining creative design with conversion optimization best practices.
Claim your competitive edge starting at just $1,000. Contact Marketer to get started on an ecommerce site that sells.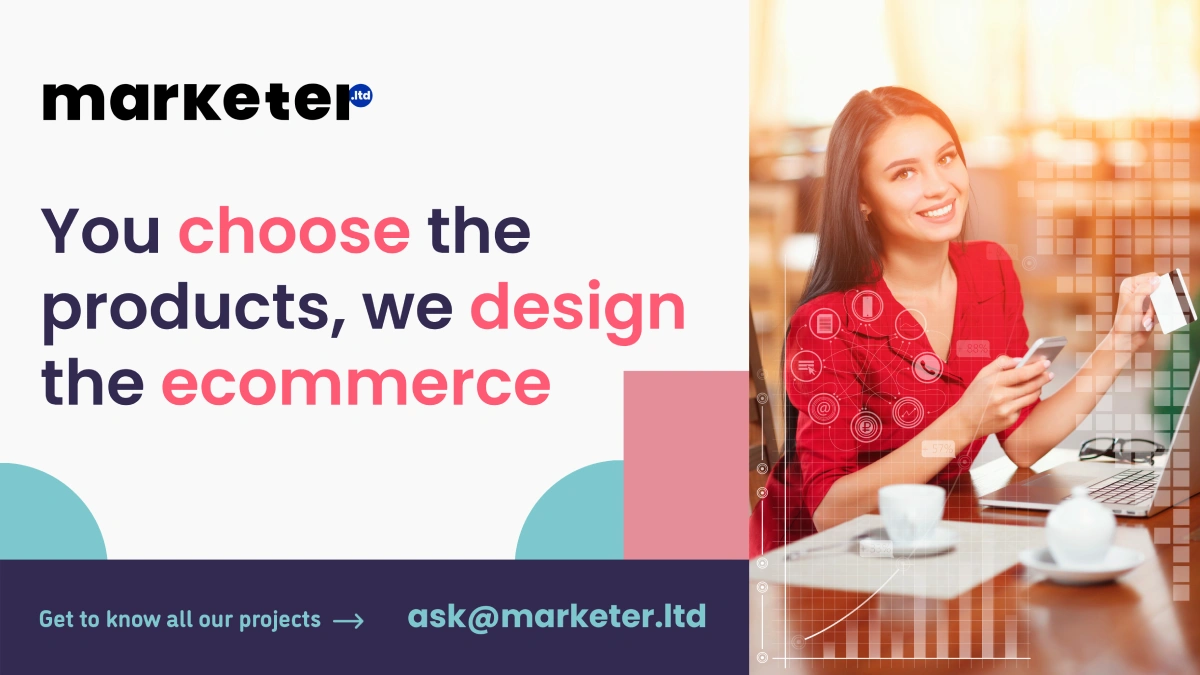 Ecommerce Website Design Services
We offer end-to-end ecommerce website design, including:
UX/UI Design – We create a user-friendly site architecture and intuitive website navigation. This leads to improved customer experience.
Responsive Design – Our sites adapt seamlessly to any device – mobile, tablet, desktop. This ensures customers can conveniently shop from anywhere.
Graphics and Branding – We develop logos, branding colors/fonts, and custom graphics that express your brand personality.
Development – We hand-code using modern frameworks or integrate platforms like Shopify. We focus on site speed and security.
Content Creation – We craft compelling product descriptions, FAQs, and other sales-driving content.
CMS Integration – We integrate content management systems like WordPress so you can easily update your catalog.
Our design services will capture your brand essence while optimizing for conversions.
Ecommerce Features We Offer
Our ecommerce site designs include essential sales features:
Beautiful Product Galleries – Showcase your products with image galleries, zooming, multiple views, videos, etc.
Intuitive Catalog Navigation – Well-organized categories, filters, and search make it easy for customers to find products.
Shopping Cart – Users can conveniently view and edit cart contents before checkout.
Multiple Payment Options – Offer payment methods like major credit cards, PayPal, Apple Pay based on your audience.
Coupons and Promotions – Run targeted promotions with options like coupons, sales, free gifts with purchase, etc.
Product Reviews – Customer-generated reviews build trust and social proof. Reviews can be moderated.
Recommended Products – Suggest relevant products based on purchase history using algorithms.
Social Media Integration – Integrate social sharing buttons so customers can easily promote your products.
With these sales-optimized features, our designs convert visitors into customers.
Ecommerce Platforms We Work With
We design and develop ecommerce sites on various platforms:
Shopify – A popular SaaS ecommerce platform. Offers a content management system, payment processing, and thousands of app integrations. Ideal for small to mid-sized catalog sizes.
WooCommerce – A free, open-source WordPress plugin. Provides ecommerce functionality for sites using WordPress. Very customizable and scalable.
Magento – A self-hosted open source solution. Ideal for large catalogs that require advanced functionality and customization.
BigCommerce – A SaaS solution similar to Shopify. Slightly more affordable with better built-in features.
Custom Platforms – For advanced functionality not offered in existing solutions, we can build fully custom ecommerce platforms tailored to your needs.
During discovery, we determine the optimal platform based on your catalog size, functionality needs, and technical abilities.
Our Design Process
We follow a structured design process refined over 10+ years:
Discovery – We learn about your industry, competitors, customers, brand, products, and business goals. This shapes our design strategy.
Information Architecture – We map out site structure, catalog organization, navigation flows, and user journeys to optimize customer experience.
Wireframes – We outline page layouts, interface elements, and functional components to finalize information architecture.
Visual Design – We craft the look-and-feel through branding, typography, color scheme, imagery, and graphic elements.
Development – Our developers bring the site to life with clean, semantic code; integrated payments, shipping, and CRM; speed optimizations.
Testing – The site is thoroughly tested for responsiveness, functionality, security, and performance before launch.
Launch – We migrate your products, content, and domain to the new site and provide training.
Support – After launch we offer ongoing support to add new products, modify content, and provide technical assistance.
Our structured design process ensures a highly effective end product tailored to your needs.
Case Studies
We've designed and launched successful ecommerce stores for clients globally. Here are a few examples:
Outdoor Adventures – This ecommerce site sells camping, hiking, and outdoor gear. We built a custom Shopify site with an immersive, nature-inspired brand and blog content to boost SEO. Conversions increased 2x after launch.
Furnish – An ecommerce brand selling modern, minimalist furniture. We created a custom site focused on large full-screen photography with parallax scrolling effects. Their average order value increased by 35%.
Craft Coffee – An artisan coffee ecommerce site. Their site needed to tell the story behind their rare, small-batch coffee sourced from around the world. We built a custom site on Magento with vivid imagery, videos, and in-depth product descriptions. Online sales now account for 75% of revenue.
Let us craft your ecommerce site success story next!
Pricing
We offer flexible pricing options to suit most budgets:
Project-Based Pricing For small sites, pricing starts at $6,000 – $12,000+ based on project scope. Includes design, development, launch, training, and 2 months post-launch support.
Monthly Retainers For larger sites or ongoing work, monthly retainers start at $5,000/mo. Covers ongoing platform hosting, maintenance, content updates, new feature integrations, and technical support.
Get an Exact Quote To receive a personalized quote with an exact price for your project, please contact us! Provide details on your product catalog size, required integrations, timeline, and any requests. We will respond promptly with a tailored proposal.
Contact Us For Ecommerce Website Design Service At Affordable Price
Ready to get started on your new revenue-driving ecommerce website? Here is what happens next:
Contact us via email at ask@marketer.ltd to describe your business goals and needs.
We will schedule a discovery call to understand your brand, products, functionality needs, and timeline.
We will then provide a proposal outlining features, timeline, and cost.
Upon approval, our experienced team will kick-off the design process and keep you updated every step.
In 8-12 weeks you will have a stunning new ecommerce site optimized to grow your business!
Don't wait – contact Marketer today to turn your product catalog into revenue! Our talented team looks forward to creating your perfect ecommerce site.