In today's digital landscape, SEO is no longer optional. It's essential for hotels to maximize online visibility, attract targeted traffic, and increase direct bookings. Marketer offers full-scale SEO services backed by the experience and expertise to propel your hotel ahead of competitors. Contact our team today to start filling rooms through SEO!
Attention Hotel Owners: Stop Losing Bookings and Leaving Money on the Table! Partner with Marketer for SEO That Converts.
If your hotel website isn't optimized for search, you are missing out on valuable direct bookings each day. Over 90% of travelers now research and book hotels online. Without search engine optimization (SEO), your website gets buried behind bigger chains and OTAs while competitors siphon away potential guests in your area.
But it doesn't have to be this way. Marketer's industry-leading SEO services are designed specifically to help independent hotels like yours gain a competitive edge and attract more direct bookings.
Our Local Market Mastery
With in-depth knowledge of your geographic market, we identify high-potential search terms travelers use to find hotels in your neighborhood. Our localized SEO dominates SERPs to draw more bookings from your area.
Our Conversion-Focused Approach
SEO is about more than traffic. Our strategies convert website visitors into paying guests by optimizing user experience from click to booking. We know what motivates and engages travelers.
Our Hotel SEO Expertise
Major OTAs have huge marketing budgets, but our dedicated hotel SEO specialists leverage targeted tactics proven to outperform generic agencies. We level the playing field.
Stand Out, Drive Direct Bookings, and See Fast ROI
With Marketer, you'll gain the visibility needed to compete locally and nationally. Our ongoing optimization and management means consistently increasing bookings over time. Don't leave money on the table. Claim your piece of the pie with our unique hotel SEO services.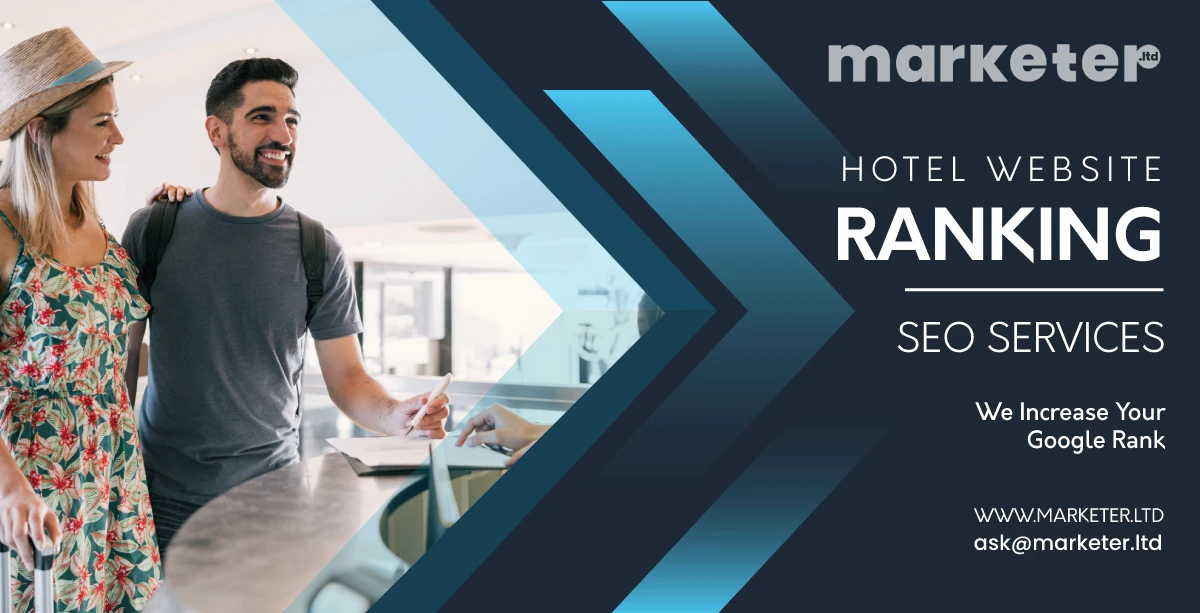 Elevate Your Hotel's Online Presence with SEO Services from Marketer
Search engine optimization (SEO) has become indispensable for hotels looking to stand out online and attract more direct bookings. With over 3.5 billion travel-related searches each month, having an effective SEO strategy can help your hotel connect with potential guests and drive revenue.
Marketer's dedicated team of SEO experts is here to unlock the full potential of your hotel's website and establish a strong digital presence. We utilize proven SEO techniques tailored specifically for hotels to get you in front of travelers actively searching for accommodations.
Detailed Hotel Website Audit
The first step is gaining a comprehensive understanding of your current website's structure, content, and performance in search engine results pages (SERPs). Our SEO team will thoroughly audit technical and on-page elements including:
Site architecture and navigation
Page speed and mobile optimization
Meta tags and content formatting
Link building and domain authority
Content relevance and keyword optimization
We'll provide an in-depth analysis of areas that can be improved to boost organic visibility and traffic. With a clear evaluation of where your website currently stands, we can devise an effective strategy to address weaknesses.
Targeted Keyword Research
Keyword research lays the foundation of an impactful SEO campaign. Our team will identify relevant search terms and phrases travelers use to find hotels in your location and category. We'll also determine buyer intent, seasonality, competition levels, and search volume for each keyword.
By focusing on the right keywords, we can create optimized content that captures interest and draws more searchers to your website. The keywords are incorporated into meta titles, headers, content, and other elements in a natural way to improve ranking potential.
On-Page Optimization
Our SEO specialists will refine on-page elements to create a seamless user experience and enable search engines to better crawl and index your site. This includes:
Improving page speed and mobile optimization
Enhancing metadata and structured data
Optimizing content with targeted keywords
Refreshing page titles and descriptions
Adding alt text/tags to images
Formatting content for readability
Technical optimization establishes the foundation while content optimization engages users once they reach your site. We'll ensure all pages are easily crawlable, load quickly on all devices, and contain relevant content for higher conversions.
Link Building to Boost Domain Authority
Link building remains one of the most effective ways to improve domain authority and rankings. Our team will manually build high-quality backlinks from relevant sites to point search engines toward your hotel website. This includes:
Securing links from local directories and niche sites
Getting featured on influencer blogs and publications
Building relationships with complementary businesses
Participating in link exchange programs
Leveraging social media and outreach opportunities
Diversifying backlinks from authoritative sources demonstrates your website's credibility and relevance to search algorithms. Over time, an expanding network of strategic backlinks will continually amplify your domain authority.
Local SEO Tactics
As a hotel catering to visitors, capturing local search visibility is critical. Our SEO experts optimize all location-related elements to help you stand out in results for searches containing your city, neighborhood, or surrounding landmarks. Local SEO best practices we focus on include:
Complete and consistent NAP listings
Optimized Google My Business page
Positive local customer reviews
Local content and landing pages
Citations on 50+ relevant directories
Locally-targeted link building
By making your hotel prominently visible for searches within your geo-target radius, you can reach more guests planning trips to your area. Our localized SEO approach maximizes your presence and conversion.
Ongoing Optimization and Reporting
We'll monitor keywords, adjust strategies, and continuously refine your on-page and off-page SEO to maintain upward momentum. You'll have access to scheduled performance reports detailing your hotel website's search rankings, traffic growth, lead generation, and ROI from SEO.
As Google's algorithms evolve, we'll adapt and implement the latest best practices to keep you ahead of competitors. Our team is committed to driving consistent growth and providing complete transparency into your SEO results.
The Benefits of SEO for Hotels
As travelers increasingly research and book trips online, SEO delivers a high return on investment for hotels serious about expanding their digital presence.
Here are some of the top benefits our hotel SEO services provide:
Increased Organic Visibility
SEO improves website visibility in unpaid, organic search results based on relevance, authority, and keyword optimization. Higher rankings result in exponentially more site traffic as over 90% of searchers avoid paid ads.
More Direct Bookings
SEO puts your website and booking channels in front of travelers proactively looking for hotels. This allows you to increase bookings directly through your website without paying OTA commissions.
Targeted Reach
Keyword research and localization ensure your hotel's website gets found by travelers specifically searching for accommodations in your location and category. You attract high-intent visitors ready to book.
Brand Awareness
Appearing on the first page for branded and non-branded keywords builds familiarity with your hotel name and reinforces your reputation.
Cost-Effectiveness
SEO delivers a high ROI because improved rankings have an ongoing effect. Investments made in content, links, and optimization continue generating new web traffic over time.
Why Choose Marketer as Your Hotel SEO Provider?
Marketer stands out from basic SEO companies with our dedicated approach designed specifically around hotel marketing objectives. Our proprietary process leverages advanced tactics to increase direct bookings from organic searches.
Industry-Specific Expertise
Our seasoned team understands the unique SEO challenges facing hotels and leverages targeted strategies to overcome them. We deliver trusted advice tailored for lodging websites.
Local Market Knowledge
We specialize in local SEO to help independent hotels dominate in their geographic region. Our localized approach connects you with potential guests in your city.
Focus on Conversions
Our strategies aim to drive more direct bookings, not simply increase traffic. We optimize the user experience to convert visitors into paying guests.
Hands-on Management
An assigned account manager oversees your hotel's SEO campaign from start to finish. You get hands-on support to execute strategies flawlessly.
All-Inclusive Service
From technical audits to link building and reputation management, we handle the complete spectrum of today's most advanced SEO techniques.