We offer research-driven social media campaigns that can bring more awareness to your brand, business, products, and services. If you want to have a cost-effective approach to branding, SMM services are the best option.
Our SMM services only focus on profitability
In the age of digitization, social media has become one of the biggest and challenging frontiers for marketing. And to become the king of your industry, you need to understand how to leverage social channels to create a stalwart brand image.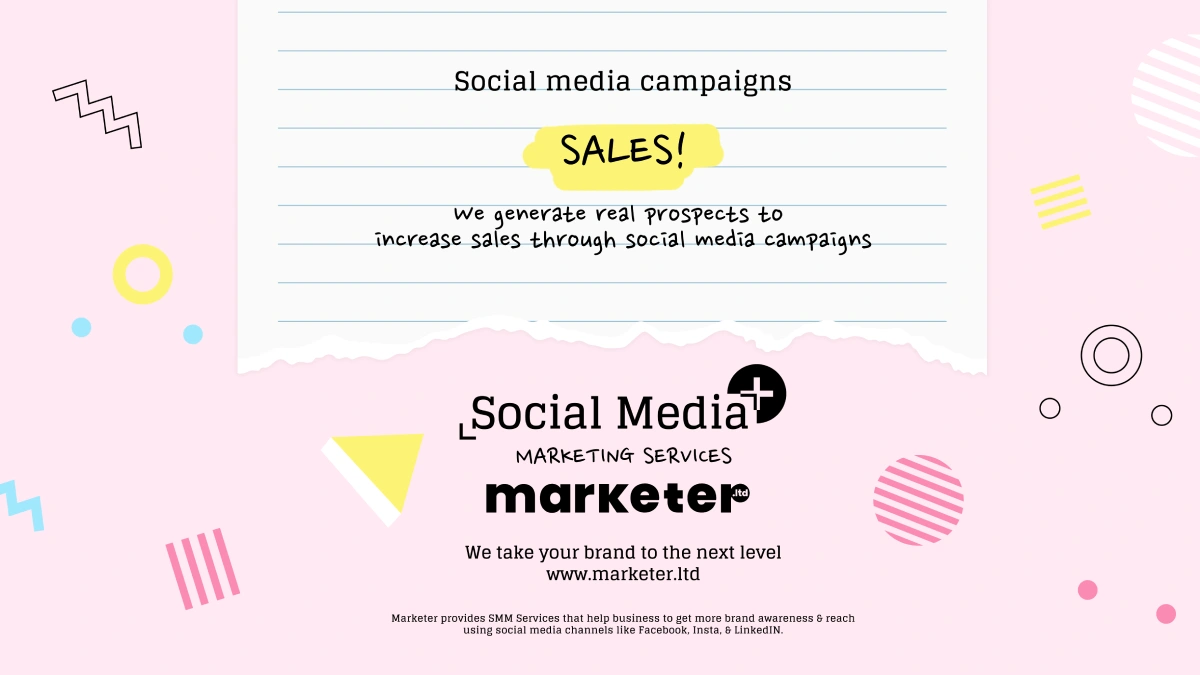 Marketer is a well-known name in social media marketing agencies. We provide social media marketing services at cost-effective prices. Our team of SMM experts creates a social media campaign to maximize profitability. We optimize our client media involvement on social platforms like Facebook, Instagram, Linkedin, Pinterest, Youtube, and Twitter.
Connect, engage, & generate business leads from social media marketing services.
Our brand is like a storyteller in the online world. We channelize social media platforms to help companies thrive. At Marketer company, we have learned that higher audiences can give opportunities in terms of buyers and customers. Since 4.48 billion people are using social media, it's a place for infinite opportunities.
Our SMM Services include
The first initiative that social media marketers take once you hire us for SMM services; we audit your current social media presence. We determine which channels you are currently using and which social channels will benefit your business during social media marketing in the upcoming days.
Data and demographics
After reviewing active social presence, we move ahead to determine the perfect set of audiences for our client's brand, product, and services. The aim of creating a results-driven marketing campaign is to identify the right seller based on their preferences, age, and location. We assemble data that we use while running the sponsored ads.
Statement & mission
If you want to stand apart from the competition, you must look unique on social media platforms. Our team will create a compelling statement for your brand image. Our social media marketing mission is to use illustration skills to make an impression that reflects your brand. We align the message and the mission to generate revenue.
Curating content
Internet is a consortium full of information; what your brand has to offer to the audience makes them realize your position. Our team of social media marketers will run advertisements on social media platforms with compelling posts and banners. We intrigue the audience to connect with our client brand and business via content.
Enhance metrics
You can only improve if you can measure the result. After running a successful campaign, our dedication to enhancing client business will become visible in the metrics. Conversion rates, impressions, and social shares we focus on every segment of social media metrics, and our marketing efforts are to generate a higher return over investment.
Tracking & optimizing
There is no stoppage of marketing campaigns; there is just a brief interval between the old and fresh ones. We track our past work and optimize it for future campaigns. Our strategy of building reports based on what we achieved and what more to accomplish aids client businesses in understanding their promotional cost and results.
Facebook marketing services
Facebook marketing services are all about the active sessions and the activity you perform to attract customers and audiences. Our team attempts to intensify the frequencies of posts via organic posting. Marketer intellects will take care of the budget and run campaigns to generate high results in terms of impressions, sales, traffic, and reach.
Twitter marketing services
From creating, publishing, and distributing highly engaging content on Twitter profiles, our SMM team will create a custom strategy per the need of business and launch it over Twitter to create a buzz in the online world. Using the limits of Twitter, we develop text enrich content and use it to generate hashtag campaigns to give an adequate boost to the brand name.
Youtube sponsored video
In marketing, video marketing is one of the fastest generating awareness. After the induction of youtube, the platform has become a giant playground for content creators. A Marketer acts as a fruitful pact for client business by endorsing their products, services, or brand name on youtube advertisements to establish quick brand responses and gain customers.
Instagram paid ads
Instagram advertising is a modest way of informing your potential audience about your brand, products, or services. Using Instagram business, our team will look into the CPC. Based on the budget, we run advertisements that can bring more buyers to the site; we leverage the channel and create a bypass that passes the customer directly to the website.
Tik Tok paid ads
Growing the business is getting these days with the new platform being introduced recently by the Tik-Tok app. Tik Tok ads have a consortium of apps to target the online audience by showing them enticing graphics and content. Using Tik Tok pixels, our team will track the conversation ratios. We do all the chores to run the ad campaign on the lowest budget.
Linkedin marketing
Suppose your business is interested in the professional class and requires a specific audience to the working category. In that case, LinkedIn advertising is the most accurate way to enhance your online reach without paying the miscellaneous cost. Whether you belong to the segment of startups or b2b category, LinkedIn advertisements can help you add more clients and capital ventures.
We invite every brand to harness the power of social media platforms to generate revenues because they are exploding with millions of online audiences. Social media platforms are the most viable place to endorse brands, products, services, and businesses.
Pool of expertise
Our social media marketing squad comprises media marketing analysts, content developers, and knowledgeable handlers. Only professionals will organize your social media marketing, from great campaigns to managing them.
Economical campaigns
Social media marketing is pricey, but not with Marketer; our charges depend on the budget. We take 10% of the campaign budget as the cost of our SMM services. With pocket-friendly SMM packages, you can have the advantage of excellent outcomes at low budgets.
Get more leads
Marketing is all about generating business, and campaigns that can create awareness are prolific. Further, we assure you that our SMM service will help you generate concrete ROI & boost your profit.
Evaluation report
To give a clear picture of tasks performed & goals achieved. We share the evaluation report as per the selected plan. Impressions overview to share counts; our SMM report reflects every aspect of social media marketing results.