Online Reputation Management Services
Your online reputation matters more than ever in today's digital age. Customers are searching for and evaluating your business online. A few bad reviews or negative web results can seriously damage your company's credibility and trust. This is where Marketer steps in. As online reputation experts, we continuously monitor your web presence and take strategic actions to suppress harmful content. Our tailored services enhance your positive visibility on search engines, review sites, social media, and directories. By actively managing your online reputation, we can portray your brand in the best possible light online. Contact Marketer today to take control of your reputation and improve your brand's image across the web.
Online Reputation Management Services by Marketer
In today's digital world, your online reputation matters more than ever. Customers are looking you up online and making snap judgments about your business. A few negative reviews or harmful content can seriously impact your brand's credibility and trustworthiness.
This is where Marketer's online reputation management services come in. We are experts in managing and improving your company's online reputation across the web. Our tailored services will enhance your brand's image, improve local search visibility, and help you control your narrative online.
With Marketer, you get powerful online reputation repair and monitoring services under one roof. We take care of your online listings, social media, reviews, search engine results – your entire digital presence. Our goal is simple: portray your brand in the best light and suppress any harmful content.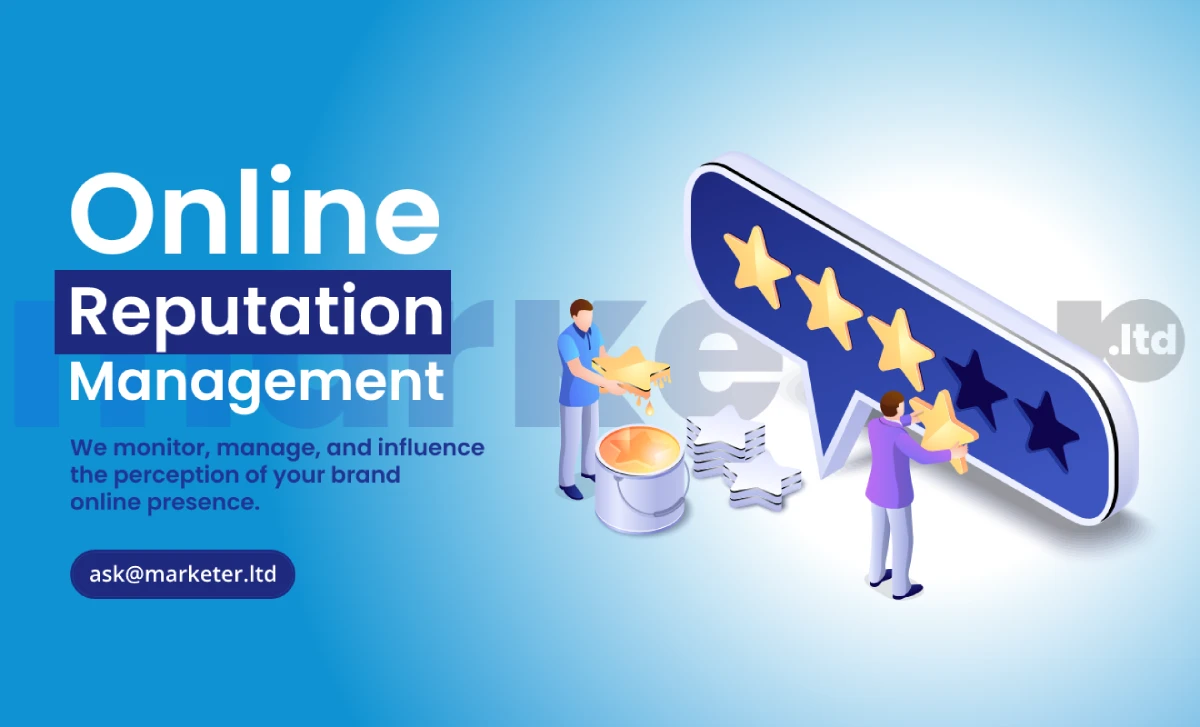 Here are the reputation management services we offer:
Online Review Management
Customer reviews on sites like Yelp, Google, and Facebook can make or break a local business today. We will:
Continuously monitor your online reviews across the web
Respond appropriately to any negative reviews
Encourage positive reviews through email and text outreach to happy customers
Managing your online reviews ensures you maintain an impressive online rating and reputation.
Search Engine Optimization (SEO)
The content that shows up on the first page of Google speaks volumes about your brand. Our SEO services will:
Optimize your website for keywords related to your business
Create and promote content that portrays your brand positively
Suppress negative search results by pushing them down with new content
This will lead to more website traffic from organic search and a solid online reputation.
Online Listing Management
Inconsistent or inaccurate NAP (name, address, phone number) information across online directories can negatively impact local SEO. We will:
Audit and fix NAP inconsistencies on listings like Google My Business, Apple Maps, Bing, etc.
Claim and optimize your listings on dozens of relevant online directories
Continually manage your listings to maximize local visibility
This ensures customers can find accurate business info when searching for you online.
Social Media Management
Your social media presence is a direct reflection on your brand. We will:
Set up and optimize your business profiles on Facebook, Instagram, Twitter, LinkedIn
Manage your social media accounts daily and engage followers
Promote positive brand storytelling through social posts
Provide ongoing social media strategy and consulting
This establishes your brand as credible, trusted, and engaged on social media.
Reputation Repair
If you have some harmful online content about your business, we have the strategies to suppress it. This includes:
Investigating options to legally remove defamatory or inaccurate online content
Creating additional positive content to push down negative content in search results
Monitoring impacted search engine and social media results
Our reputation repair services minimize the damage caused by negative content.
24/7 Reputation Monitoring
We offer ongoing monitoring of your online reputation across the web, including:
Review sites, forums, Ripoff Report, social media, etc.
Google search results for your brand name and keywords
Mentions of your business across the internet
You get alerts for any threats so you can take immediate action.
Why Manage Your Online Reputation?
Here are some of the key benefits our clients see from proactive online reputation management:
Increased Brand Credibility & Trust
Positive reviews, social media posts, and press improve brand image and credibility
Response to negative reviews reassures customers
SEO strengthens expertise and thought leadership
Higher Local Search Ranking
Listing consistency and optimization improve local SEO
More online authority from reviews and citations
Higher in local pack and Google Maps for keyword searches
Enhanced Customer Retention
Current customers feel more appreciated from outreach
Response to reviews shows you care about feedback
Problems get resolved before escalating publicly
Greater Control Over Brand Narrative
Promote your desired brand story and reputation
Bury negative content that doesn't align with brand image
Set the record straight on inaccurate claims
Improved Website Traffic & Conversions
Higher local ranking drives more organic traffic from SEO
Brand authority improves click-through rate and conversion rate
Better experience leads to more customer sign-ups and sales
Online Reputation Management Pricing
We offer customized monthly packages to meet your specific business needs.
Basic Package
Review monitoring for top 5 sites
Listing monitoring and cleanup
Basic negative content monitoring
Monthly reporting
Starting at $599/mo
Standard Package
Review monitoring for top 10 sites
Social media account setup and optimization
SEO strategy for positive content
Removal request for 1 negative link per month
Starting at $999/mo
Premium Package
Full review, social, SEO reputation management
Posting and engaging social media content
Weekly calls to discuss online reputation strategy
Complete negative content removal requests
Starting at $1,499/mo
We also offer per-service hourly rates:
Online review response – $80/hr
Negative content investigation – $100/hr
Social media consulting – $100/hr
Local listing cleanup – $100/hr
Get in touch today to discuss your unique online reputation management needs. We offer flexible and scalable solutions to manage your brand's online presence. Our experts will develop a customized plan to monitor your reputation across the web, promote positive brand visibility, and suppress harmful content.
Don't leave your online reputation to chance. Contact Marketer today to take control and elevate your brand image!