Home Care Digital Marketing
As a home care agency, you know it takes more than compassionate care to succeed. You need to attract clients in a competitive market. Marketer provides digital marketing services to help your agency thrive. Our tailored strategies will boost your online visibility and connect you with more prospects seeking home care. We build SEO-optimized websites to showcase your services. We run targeted ad campaigns so you appear locally for relevant searches. And we manage your online reputation through reviews and social media.
Stand Out From Your Competition With Marketer
At Marketer, we specialize in the digital needs of home care providers. We've helped agencies across the country increase their rankings, website traffic, leads, and sales. Our comprehensive services take the digital marketing work off your plate so you can focus on what matters most – delivering exceptional in-home care.
Don't let your agency fall behind the digital curve. Partner with the marketing pros at Marketer to gain an edge over competitors. Grow your reach, generate more quality leads, and propel your business to the next level. Contact us today for a complimentary strategy session to kickstart the success of your agency!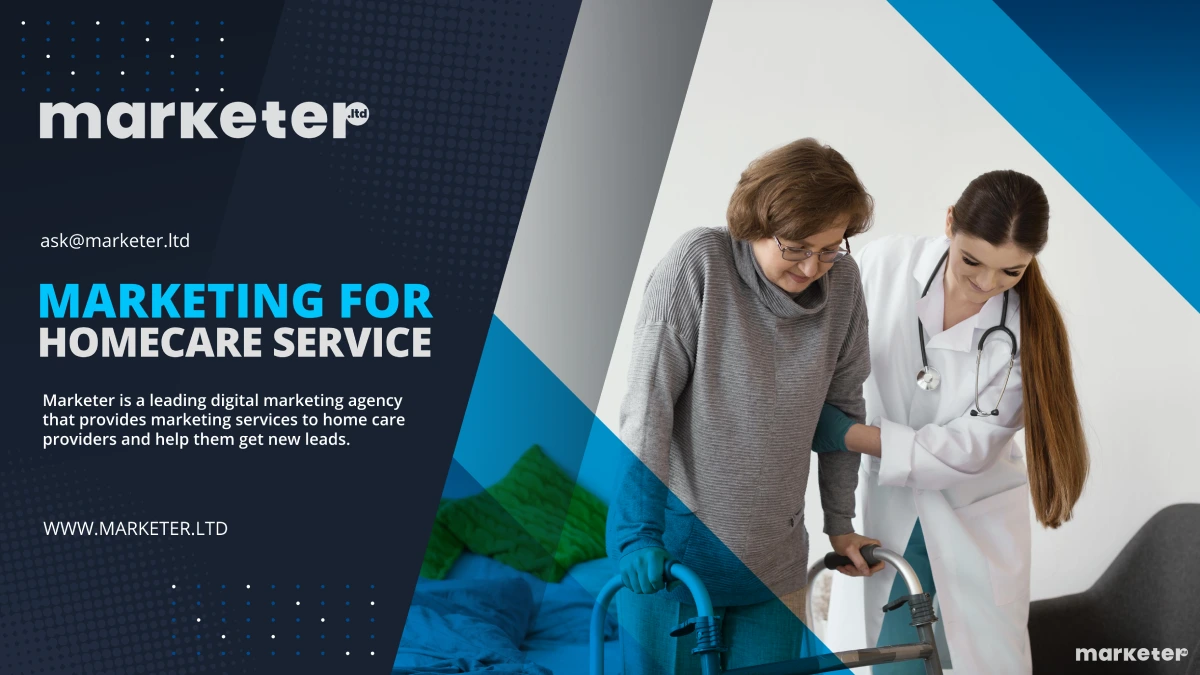 Providing Quality Home Care Takes More Than Just Caring Hands
The home care industry is more competitive than ever before. With rising demand from an aging population, home care agencies need to differentiate themselves and attract new clients. A strong digital marketing strategy is essential for any agency looking to grow and thrive in the modern marketplace.
Marketer understands the unique marketing needs of home care businesses. We specialize in providing customized digital solutions to help our home care clients boost their online visibility and client acquisition. With our data-driven approach, we can help you connect with more prospects and grow your client base. We can help you our services like:
Custom Website Design That Showcases Your Services
The cornerstone of a strong digital presence is an effective website. Your website is often the first touchpoint prospective clients have with your agency. That's why Marketer offers home care websites designed to convert visitors into leads.
We build custom websites focused on showcasing your services, features, and advantages over competitors. Optimized design, compelling content, and ease of use are baked into every site we build. Our websites are engineered to provide an optimal viewing experience on all devices – desktop, tablet, and mobile.
Marketer also ensures your new website is fully optimized for search engines. Your content and backend architecture will be configured to improve visibility in search engine results pages. The higher your website ranks, the more opportunities you gain to attract new visitors searching for home care services in your area.
Ongoing Search Engine Optimization
A one-time website design project is not enough. Marketer provides ongoing search engine optimization (SEO) to maximize the number of prospects directed to your site. Our team of SEO specialists will conduct in-depth keyword research to identify terms and phrases your ideal clients are searching for around home care and senior services.
We perform on-site optimization to seamlessly integrate keywords into your page content, titles, headers, URLs, and more. The goal is to send clear signals to Google and other search engines that your site is relevant for those high-value keyword terms. This improves your search rankings so more local searchers see your business.
Marketer's SEO experts also build high-quality backlinks from other relevant websites to enhance your domain authority in the eyes of search engines. We use ethical, white hat link building strategies to get your website featured and linked to from reputable sources. The greater your off-site reputation, the higher you rank in organic search results.
Harnessing the Power of Social Media
A strong social media presence is a must for any modern home care agency. Platforms like Facebook, Instagram, and Twitter provide avenues to demonstrate your brand personality and connect with prospects in your community. Marketer excels at crafting social media strategies tailored for home care providers.
Our team will handle content creation, community management, ad campaigns, and more. We develop unique, engaging social content designed to attract followers and leads. Active social accounts signal trust and authority to prospective clients during their research process. And social ads allow hyper-targeted promotion to reach local folks seeking senior care solutions.
Monitoring and Managing Online Reviews
In home care, word-of-mouth referrals and reviews are tremendously impactful. Online reviews on sites like Google, Facebook, and Yelp can make or break agencies vying for new business. Marketer provides solutions to take control of your online reputation through reviews.
We walk you through the process of claiming and optimizing your business profiles on key review sites. Our software tracks new reviews in real-time, allowing for prompt responses. We craft appropriate reply strategies to generate more positive reviews over time. And we can even convert positive reviews into compelling social testimonials with client permission.
The Right Mix of Digital Ads
Pay-per-click (PPC) advertising enables laser-targeted promotion to potential clients at the right times during their search process. Marketer develops paid search and social campaigns to get your service in front of those actively searching for care.
Our team sets up and manages Google and Bing ads to appear for relevant home care keywords. We continuously optimize the ads for effectiveness by tweaking targeting, bids, landing pages, and ad copy. Our campaigns aim to convert clicks into contacts at the lowest possible cost per lead.
We Take the Work Off Your Plate
Marketer strives to provide more than just marketing services. We offer solutions tailored for home care providers so you can focus on delivering exceptional service. Our experts handle the digital marketing responsibilities – freeing you up to spend time on your clients and community outreach.
The Benefits of Partnering with Marketer
Increased Online Visibility – Our comprehensive digital strategies help you stand out.
More Website Traffic – Optimized sites and SEO drive qualified visitors to your website.
Higher Search Rankings – Consistent SEO improves organic rankings and brand visibility.
Targeted Paid Ads – Our ads appear locally for sought-after home care keywords.
Improved Online Reputation – Review monitoring and social proof build trust and credibility.
More Contact Leads – Our digital tactics connect you with more prospects seeking care.
Proven Results for Home Care Agencies
Marketer has assisted numerous home care agencies in amplifying their online presence and lead generation. Some results from our recent clients:
"Marketer helped us rank #1 on Google for our main home care keywords in under 6 months."
"Their paid ads have reduced our cost per lead by over 30%."
"We've seen a 40% increase in contact forms and calls from our new website."
"The social media content they create engages our local community."
See for yourself how our customized digital marketing solutions can transform your home care agency. Contact Marketer today for a complimentary assessment of your current marketing efforts. Let's discuss your goals and how we can help you acquire more clients through online channels. The demand for home care is rapidly rising – make sure your agency has the strategies to capture your share of the market.