Home Care Digital Marketing
How many people do you think search for the word homecare every month? Chances are, it's more than you might think, which means there's a lot of potential business out there for you. If you want to make sure that your business stands out from all the others, you need home care digital marketing services.
Fortunately, we can help! At HomeCare Marketing, we offer tailored marketing solutions for home care providers across the country; just contact us with your needs, and we'll find a strategy that suits your needs perfectly.
Drive more qualified leads with home care digital marketing services
Marketer company provides organic SEO, pay per click, and social media services to home care providers.
We design our home care digital marketing services to meet the needs of individual home care businesses. Further, we customize our packages based on your preferences, budget, and requirements.
Our marketing professionals have expertise in various fields of digital marketing. From search engine optimization (SEO), pay-per-click (PPC) advertising, to social media marketing, we can offer a range of services to help you reach your goals.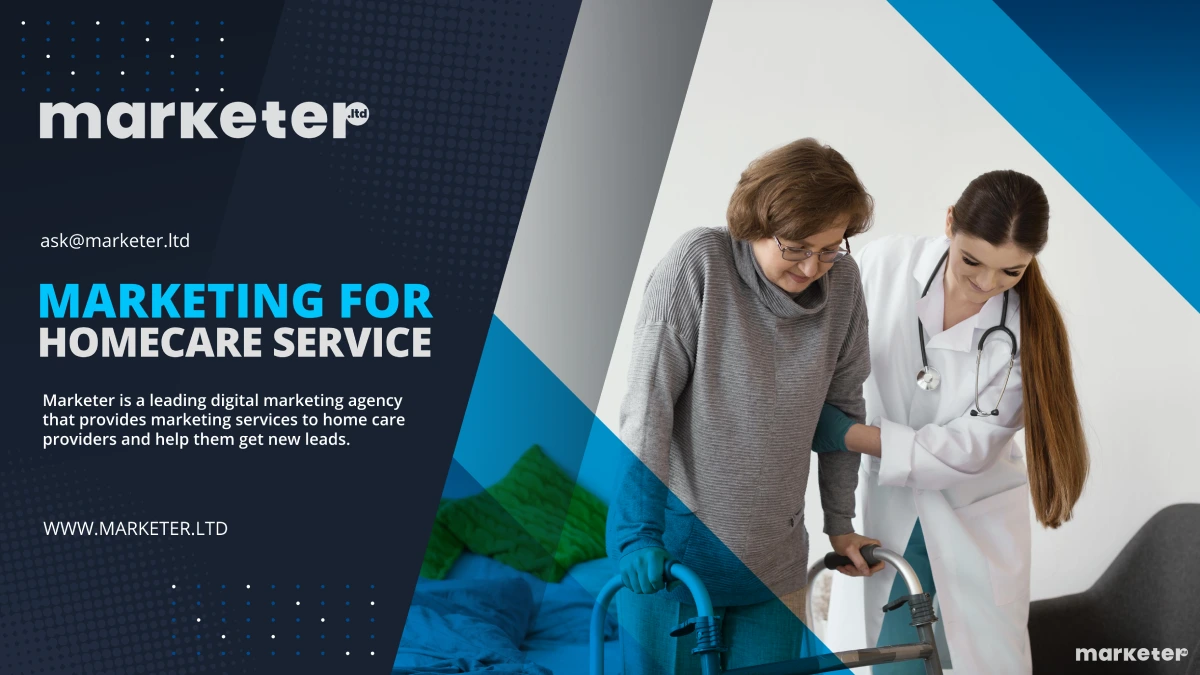 What is digital marketing for home care providers?
You might already know what digital marketing is, but it's likely a foreign concept if you're an in-home care provider.
Digital marketing can help you reach potential clients searching for information online; they're looking for caregivers and home care providers, after all.
Here's a quick definition of digital marketing: a broad umbrella term that includes
search engine optimization
pay per click advertising
social media marketing
email marketing
For home care providers, digital marketing can be challenging to master on your own – you're busy caring for your clients and taking care of administrative work, so you don't have the time or expertise to learn digital marketing from scratch.
If you want high-quality digital marketing services but don't have the time or resources to do it yourself, turn to Marketer agency; we specialize in home care digital marketing.
Advantages of digital marketing for senior care facilities
Senior care is a complex field that deals with multiple stakeholders and requires coordination across different departments.
For home healthcare providers, staying on top of all these moving parts can be difficult and time-consuming, especially if you also have to manage your business operations. That's where digital marketing comes in.
Digital marketing can make your job much easier by helping you coordinate activities that would otherwise have to happen simultaneously.
For example, with an easy-to-use customer relationship management (CRM) system, you can automatically send out appointment reminders and track when those appointments occur, ensuring more reliable service for clients and better customer satisfaction for everyone involved.
Home Care Providers Love Us
Home care is a growing industry—and that means there's an increasing need for home care providers to market themselves effectively digitally.
In fact, according to one recent report, older adults expect to continue living at home as long as possible and are looking for quality in-home care providers.
Our customers love us because we help them attract more clients using traditional and modern marketing techniques.
We offer customized services that meet our customers' unique needs. If you have a business or service related to home care, contact us for home care digital marketing and build your business!
Why Choose Us?
Home care providers can have a hard time getting leads; we understand how to build awareness of your business. We live and breathe digital marketing and work with clients across various industries, including home care.
Marketer company name & five years of experience proves it. Our team has the experience of getting good results for clients every day.
What do We do?
Home health care providers have a lot to focus on, and digital marketing shouldn't be one of them. That's why home healthcare providers need to partner with professional digital marketers to improve lead generation, customer retention, and revenue growth.
We provide healthcare providers with affordable SEO solutions that result through expert analysis and dynamic website optimization.
In addition to SEO, we offer PPC (pay-per-click) management and social media campaigns.
Web Design for Home Care Facilities
Good design makes something intelligible and memorable. Marketer's website design services for home care facilities make your home care facility unique to potential clients.
Further, a website needs to be streamlined, easy-to-use, and focused on delivering value quickly.
This way, a potential client can understand exactly what you do, how you're better than competitors, and why they should work with you.
SEO for Old Age Care Website
SEO is most likely not your #1 priority as a home care agency, but SEO services are an integral part of our digital marketing strategy if you want to rank on search engines like Google and Bing.
It's also an area where you can generate new leads for your homecare business via online searches.
Business Listing For Nursing Bureau
We register your business on Google My Business, Mapquest, Yelp, and Bing local. We can also help you buy a business listing on Yellow pages.
Business listings are vital to any local business, especially home care providers, as they are consumer-friendly and will help you to provide contact information along with reviews from previous clients.
Another way of getting more patients is to create an online presence in your local area. With local SEO services, you can get more local citations that help rank your listing for local search terms.
We promote your business on social media platforms like Facebook, Twitter, Instagram, etc., where you can publicize your services at discounted rates.
Social Media Marketing for Home Care Provider
Home care providers are often challenged by how to get in touch with their target audience.
The fact that there's a lot of competition on Facebook, Twitter, and Google can make it challenging for businesses like yours to connect with your audience.
Fortunately, there's an easy solution: social media marketing services from an agency like ours! We promote your business on social media platforms like Facebook, Twitter, Instagram, etc., where we can publicize your services at discounted rates.
Online Reputation Management for Home Care Business
This year more than ever, home care businesses must take a proactive approach to manage their online reputation.
Although print media and TV advertising may still be relevant tools in some markets; home care digital marketing is an emerging trend to reach potential customers.
If you own or operate a home care business, ORM services help manage and improve your online reputation to attract new clients.