Digital Marketing Services for Roofers
Running a successful roofing company takes more than just providing quality workmanship. In today's digital world, you also need a strong online presence to attract potential customers and grow your business. This is where Marketer's digital marketing services for roofers come in. With over a decade of experience helping roofers expand their reach online, Marketer has the proven strategies to get your website found, build your brand across social media, and convert visitors into customers.
Want More Roofing Leads? Let Marketer Handle Your Digital Marketing
As a busy roofing contractor, you don't have time to handle digital marketing yourself. With Marketer, you don't have to! Our dedicated team will generate more leads for your roofing business through proven digital marketing strategies. We'll design and optimize a website that converts visitors into customers. We'll make sure you rank high in search engines so homeowners see you when searching for "roofer [your city]". Our Google and Facebook ads will reach local homeowners actively looking to hire a roofer.
We'll also build your brand and generate word-of-mouth through social media and online reviews. Our comprehensive approach covers everything from SEO to paid ads to reputation management. We handle it all!
Marketer has over a decade of experience with roofers. Our ROI-driven strategies will grow your leads and business. Let us handle the marketing while you focus on roofing. Claim a free digital marketing assessment by mailing us at [ask@marketer.ltd]. Our marketing experts will evaluate your current efforts and provide a game plan for growth. Partner with Marketer and start getting more roofing leads this month!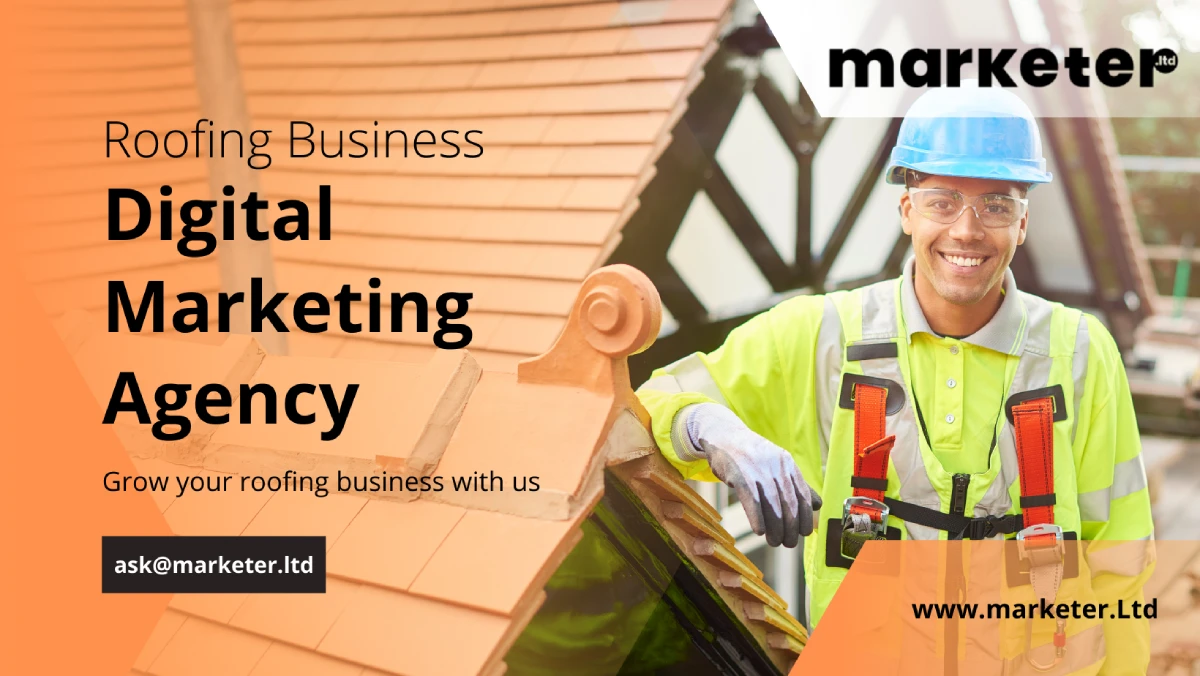 Effective Website to Showcase Your Business
Your website is often the first touchpoint between you and potential new customers searching for "roofers near me". Having a properly designed, mobile-friendly site with clear calls-to-action can significantly improve conversions.
Marketer's talented team of website developers and designers can build you an effective new website or overhaul your existing site. We'll make sure your site accurately represents your brand while optimizing it for conversions with clear contact forms, estimates, and calls to contact your company.
We'll also optimize your website for speed and mobile use, since studies show over 60% of searches for local roofing companies now happen on smartphones. Faster loading pages lead to better user experience, higher rankings, and more conversions.
Keyword Optimization For SERPs
One of the most effective ways to promote your services is by getting your business ranked high in search engine results. Marketer specializes in search engine optimization (SEO) to improve your rankings for relevant keyword searches like "roofer Denver" or "roof repair contractor Austin".
Our SEO services include extensive keyword research to identify terms potential customers use when searching for roofing contractors in your service area. We'll then optimize your web pages around those keywords, create localized content and blogs, and build high-quality backlinks from relevant sites to boost your authority in the eyes of Google and other search engines.
The higher your website ranks for these searches, the more visibility it will receive and the more new customer leads you'll generate. Our roofing contractor clients often see a 2-3x increase in organic traffic within 6-12 months through our ongoing SEO efforts.
Paid Advertising Campaigns
Marketer also manages paid advertising campaigns on platforms like Google Ads, Bing Ads, and Facebook to reach homeowners actively searching for roofing contractors. These paid ads further expand your digital footprint.
With Google Ads, we'll get your ads in front of people searching for terms related to roofing services in your area. We'll build and optimize campaigns across the Google Search Network, Display Network, and Video sites like YouTube. Our roofing clients average 30-50% lower cost per click than industry benchmarks with our highly targeted, data-driven approach.
We also specialize in highly targeted Facebook ads to reach local homeowners most likely to need roofing services. Our custom audiences, hyper-local targeting options, and conversion optimization best practices drive extremely high ROI from Facebook campaigns.
Social Media Marketing
In addition to paid social ads, having an active presence on platforms like Facebook, Instagram, Twitter, and LinkedIn allows you to build stronger connections with potential customers in your community.
Marketer's social media marketing services include managing your social media profiles, creating and scheduling engaging posts to build your audience and improve visibility. We'll also monitor reviews and comments across your profiles to help manage your online reputation.
For roofing contractors, we've found Facebook to be an ideal platform for customer outreach and lead generation. Instagram is also effective for sharing photos of your roofing projects and capabilities. We can help build your followers and engagement on these platforms through promotions, social listening, and partnerships with influencers and satisfied customers.
Reputation Monitoring & Review Generation
Your online reputation across review sites like Google, Yelp, and Angie's List can have a big influence on whether potential customers ultimately choose your roofing company.
Marketer provides active monitoring across the web to track any reviews of your business. We'll help you generate more positive reviews through email and text outreach to happy customers. For negative reviews, we can provide guidance on thoughtful responses.
We also offer review site management services, which involves creating business listings on 50+ sites and consistently encouraging satisfied customers to leave positive reviews that will build trust among potential customers.
Get Measurable Results For Your Roofing Business From Marketer
The ultimate goal of digital marketing is driving growth for your business. Marketer closely analyzes all our campaigns using leading analytics platforms. We'll provide monthly reports detailing our efforts, campaigns, costs, and the measurable ROI generated. Some of the key metrics we track include:
Increased website traffic
Lower cost per lead
Higher lead conversion rates
Improved website rank for key terms
More positive online reviews
Growth in followers and engagement across social platforms
Our comprehensive approach covers all facets of digital marketing and drives proven results for roofing contractors. We'd love to discuss your goals and develop a customized digital marketing plan tailored for your roofing business. Please reach out at [ask@marketer.ltd] to learn more about partnering with Marketer.