Digital Marketing Services for Roofers
If you are a roofing company and need digital marketing services to grow your business, you've come to the right place! Marketer specializes in helping roofing companies get more leads and more customers by using digital marketing tactics that help bring people to your site, raise awareness about your brand, and create demand for your product or service.
You've heard that digital marketing is a necessity in today's business world.
In fact, some businesses are even making money by using only digital marketing—no offline advertising at all!
Digital marketing strategies can benefit all types of roofing businesses, especially those relatively new or are not yet well-known in the community.
A growing number of roofing companies are looking for digital marketing services to help reach new customers and expand their customer base.
As an up-and-coming roofing company, you might be considering partnering with a digital marketing agency that can help you reach more potential customers online.
We can help with everything from website design and optimization to pay-per-click advertising to social media advertising and more.
We can even help you manage your entire campaign, so you don't have to worry about how it's being implemented.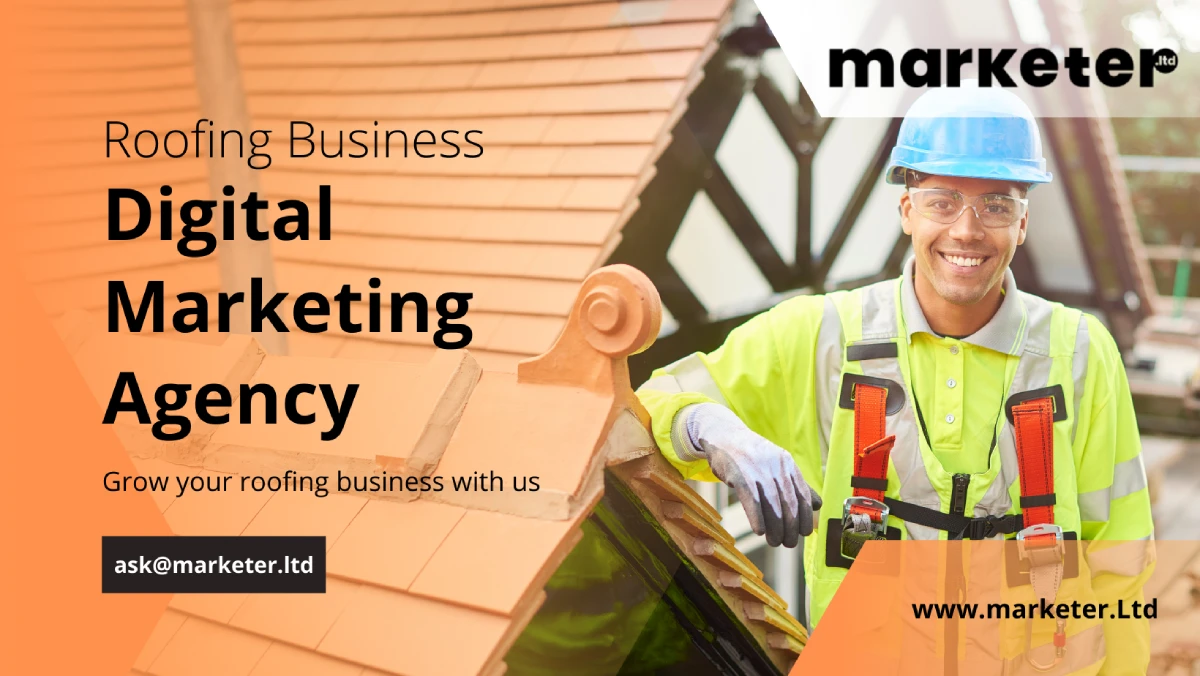 Digital marketing services for roofing business
Digital marketing services have become a necessity in our ever-changing, fast-paced world.
Anyone looking to run a successful business will eventually have to learn how to integrate digital marketing strategies into their existing plan.
For example, you may find yourself with many clients stuck at home because of inclement weather, but that doesn't mean you can't continue making sales.
Suppose there is one way that everyone can benefit from integrating digital marketing techniques into their business strategy. In that case, it's by offering customers new and engaging content to experience your brand while they aren't even actively searching online.
Digital marketing helps get more new leads from your roofing company website
Nowadays, 4 out of 5 consumers research their roofing needs online before contacting a roofing company.
93% of roofing leads come from online sources such as Google and Facebook.
Suppose you aren't maximizing your digital marketing presence and getting new leads to your website through organic search engine optimization, pay-per-click advertising, and social media. In that case, you could be missing out on a huge opportunity to grow your business.
That is why we often suggest that clients invest in roofing digital marketing services as part of our initial consultation.
Our digital marketing services for roofers include:
SEO service to optimize roofing company website & boost traffic
SEO can have a direct impact on your website traffic.
If you aren't familiar with SEO, it's not too difficult to understand—for example; you might use SEO as part of an overall marketing strategy that includes paid advertising or other forms of marketing.
Or perhaps you are launching a new roofing website and need to rank highly in search results so potential customers will discover your business.
Whatever your digital marketing goals are, it's essential to get started right away; after all, time is money!
We follow an ethical SEO approach and begin optimizing your website for search engines like Google & Bing. However, SEO is a big part of digital marketing, with lots of tasks under its belt. Below are the few things we work on while providing roofing businesses with SEO services.
Firstly we do keyword planning for your roofing business.
It's crucial to select keywords that are pertinent to your roofing business.
And while you may want to rank high in Google searches for roofing business, but nowhere in your website mentions keywords related to business, your site doesn't stand a chance to rank.
Therefore, finding relevant keywords that have the potential to bring clients to the website is indeed essential.
We do it best by using tools like Google Keyword Planner or AdWords Keyword Tool, which gives us an idea of how many people are searching for roofing businesses in your city or state.
After finding the best keywords for your roofing business, we integrate them into the website
Our expert roofing business marketer knows the secrets of integrating keywords on your webpage to improve your SEO.
We make sure to optimize every post, including meta titles and descriptions after an SEO audit. Our ethical practices give us an upper hand over every other digital marketing company for roofers.
We do everything during search engine optimization as per the search algorithms.
Further, we focus on naturally integrating your keywords into your website to add value for users and make it easier for search engines to pick up on those important keywords they consider when displaying search results.
The best way to stand out in your industry is to do something unique and valuable. But that's not enough; you also need ways to get your content found.
Our link builders earn backlinks from other people in your industry and build up a robust presence for your brand.
Earning backlinks requires a bit of research; our digital marketers for roofing businesses know exactly where to get them.
Further, using social media optimization services, we ensure that your business pages on social media like Facebook & Twitter stand apart from your competitors.
Both strategies will boost traffic (and potential leads!) without much extra effort or cost down the road if all goes well.
Pay per click to advertise (paid) your roofing business
PPC advertising is one of the most cost-effective ways to reach consumers looking to buy a new roof.
With PPC, you pay for ads when users click on your listing—not just when they see it.
The average cost per click (CPC) for pay-per-click advertising is $2–$5 in many industries and, since you only pay when viewers click, it's not surprising that return on investment (ROI) with
Pay per click services from Marketer is 1.7x greater than ROI from any other roofing SEO company.
Given that every extra dollar spent on PPC can generate up to $13 in revenue investing in digital marketing services means more money in your pocket at month's end!
With email marketing, we do branding as well as re-marketing
Reaching out to people via email marketing is a great way to create value for your customers.
In addition, we can help you develop an additional revenue stream by providing premium information.
If you already have a steady customer base, we can use email marketing to promote new products and services.
It's much more likely that customers will buy from you if they have a relationship with you and are happy with your current offerings.
Plus, when someone buys from you in one area of your business (i.e., roofing), they're much more likely to trust you and your company overall.
Attract leads and sales with roofing marketing services
Focused digital marketing services are a must-have to ensure that roofing companies attract qualified leads and generate sales from customers in their area.
A comprehensive marketing program from Marketer company can also help you expand your business by making sure you're getting your message out about what sets you apart from other roofing companies and contractors in your area.
Although it may be tempting to dive straight into an SEO campaign or PPC advertising, it's important to make sure that you have a plan in place before putting any money behind any strategy.
Social media marketing is a great place to start, which is ideal for new businesses because it's less expensive than traditional marketing campaigns and requires little time investment on your part.
Our digital marketing package for roofing companies include:
We can take your business online via web design and development, video content creation, social media marketing.
Our digital marketing services for roofing companies include email marketing and affiliate campaigns that drive traffic directly to your website.
Our digital marketing services are custom-tailored towards a roofing company's goals and needs.
We offer both long-term monthly packages and one-time yearly pay per service jobs.
We provide roofing digital marketing services at an affordable price; you'll get more value from our work because we focus on ROI with every campaign we run instead of focusing on many clicks as other agencies do.
You will be getting when you partner with our digital marketing company for the roofing business.
Dedicated account manager for your project
Our digital marketing agency has an account manager that manages your day-to-day interactions with them.
Roofing marketing account managers are well versed in your industry and needs, ensuring that you're getting a customized package of services.
Most importantly, our account manager will act as a single point of contact for you or anyone on your SEO team, so you don't waste time trying to figure out who to talk to.
Customized strategy for your roofing business
Because each company and project is different, it's hard to provide a specific set of digital marketing services that work for every roofing business.
At Marketer agency, we develop custom strategies tailored to your goals and target audience.
Our strategy begins with market research on your competitors—what are they doing right?
What is your roofing business missing digitally?
Who are the potential customers for your business?
We learn more about your brand to make your roofing brand unique and special in today's crowded marketplace.
Monthly or Quarterly Reporting
Like any business, it's essential to keep tabs on your roofing company's metrics and stay on top of trends.
Our regular reporting will provide you with up-to-date information about your online visibility, give you a chance to establish key performance indicators (KPIs), and help build a strong foundation for strategic planning.
This is particularly helpful when you rely on specific digital marketing channels like social media and SEO to run marketing campaigns.
Lowest price digital marketing services for roofers
To create a transparent pricing model, we first outline how our customers can pay and what they'll receive in return.
We provide the lowest price digital marketing services, so even local startup businesses in the roofing segment can have a chance.
Why choose us for roofing marketing?
There are a ton of companies out there that offer marketing services specifically tailored to roofing.
However, many don't have the budget to utilize digital marketing because they need to put all their money into other business areas.
This is where we come in. We specialize in roofing marketing and can help you get your digital presence started on a shoestring budget.
We use creative strategies and tactics to build an audience around your brand and drive them back to your website or call center.
Since we're focusing our energy on a particular niche, we can go deeper than most with our content, using it to engage readers by speaking directly about their industry.
How our digital marketing can help your roofing business?
If you are a roofing company, marketing your services is an important thing to do.
When people require roof repair, who are they going to call? Roofing companies that haven't appropriately marketed will be lost in a sea of competitors.
They will have to resort to advertisements, but those are expensive and ineffective if not done correctly.
The good news is that our digital marketing is perfect for roofing companies because it offers wide-ranging benefits and comes at a low price.
We do everything possible to get more clients for your roofing services, from improved website rankings to a robust social media presence.