Digital Marketing Services For Restaurants
Marketer has proven experience helping restaurants thrive online. We stay on the cutting edge of digital marketing to keep your customers coming back. Our affordable services are tailored to your brand and budget.
Make Your Restaurant Thrive With Digital Marketing Services
Having an online presence is very important for restaurants today. Many people use the internet and social media to find and learn about local restaurants. Effective digital marketing has become necessary for restaurants to attract new customers and stay competitive.
We at Marketer provide customized digital marketing services to help your restaurant stand out online. We want to drive more customers to engage with your brand and boost your success.
We understand the unique digital marketing challenges for restaurants. Restaurants often have tight budgets. So you need smart strategies that give real results for your money spent. Our data-driven approach focuses on your target audience. This helps maximize your return on investment. We can provide services from branding and web design to social media marketing and search optimization. Read on to learn more about how our services can help your restaurant thrive online. Our services include: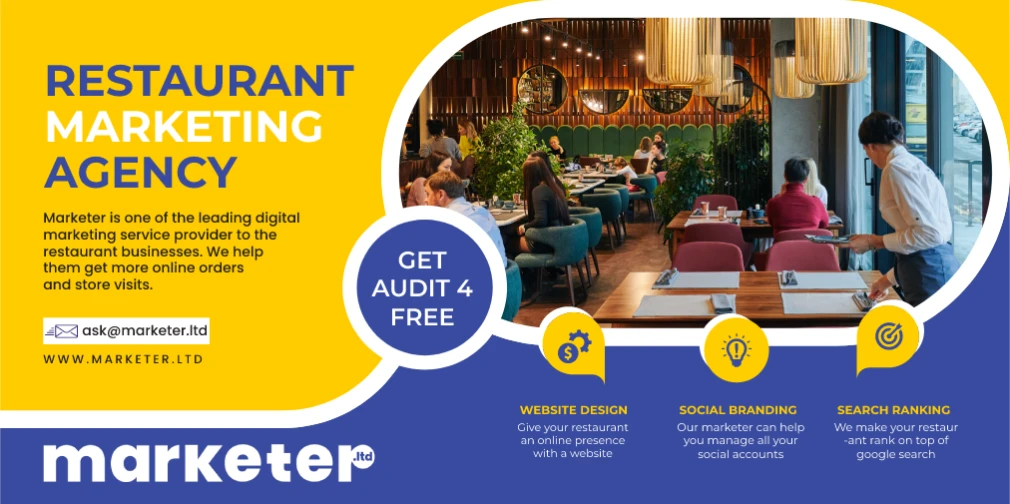 Website Design and Development
Your website is usually the first impression potential customers get of your business. So your website needs to showcase your brand and menu offerings. Our designers will work closely with you to build an engaging, mobile-friendly website. We will tailor it to match your restaurant's unique brand and style.
We will optimize the site layout and navigation. This will give customers an intuitive user experience that keeps them on your pages. From stunning food photos to easy online reservations, we'll add features that drive conversions. Your new website will also be search engine optimized. This makes it easy for customers to find your restaurant when searching online. We will ensure your website works well on smartphones and tablets too. Over 60% of people use mobile devices to find restaurants.
Social Media Marketing
Social media is a great way for restaurants to engage customers and promote specials. We will create the best social media strategy for your target audience and brand. This includes finding keywords people use to search for restaurants like yours. And keywords for your cuisine and location.
Platforms like Facebook and Instagram let you post photos, run promotions, and talk to local customers. We will build your social presence and reputation. Our campaigns will get more locals to visit your restaurant. And we'll keep out-of-town followers engaged too. You can also use social media ads to target relevant people near your location.
Our team stays on top of the latest social media trends. This helps us recommend winning tactics for your restaurant. We will manage your accounts, monitor reviews, and use data insights. This allows us to improve your approach over time. Consistent posting and engagement is key. Compelling content and special offers also help grow your social media presence.
Search Engine Optimization
Search engine optimization (SEO) helps people find your website. It works when people search for local restaurants on Google, Bing and other search engines. Our SEO strategies will improve your organic search ranking. This makes your restaurant website appear before competitors in results.
First we identify relevant keywords and optimize your website content. These are terms people use to find restaurants like yours. They also include keywords for your cuisine and location. We'll optimize your site with schema markup too. This helps search engines understand your business type, address, menu and more.
Link building is another important SEO tactic we use. We get reputable links pointing to your site from publications, directories and review sites. This signals your brand is authoritative and relevant. We monitor keywords and stay updated on Google algorithm changes. This allows us to adapt your SEO plan as needed.
Higher search rankings will get your website more traffic. When people search for restaurants in your niche and area, they'll find you organically. SEO brings long-term results by making your site visible and easy to discover.
Get Best Outcomes With Restaurant Marketers; Start Today
Gaining an edge online requires effective digital marketing for restaurants. Marketer's customized services attract more customers to your restaurant. We start by learning about your brand and target audience.
Then we build an engaging website to draw in visitors and convert them to paying customers. Our social media marketing lets you interact with locals, run promotions, and showcase dishes. SEO gets your site in front of nearby customers on Google and other search engines.
Our digital experts can create a comprehensive strategy for your restaurant. This will increase your online visibility, website traffic, local customers and reservations. We stay updated on the latest trends and tech. This allows us to deliver real marketing results. Partner with Marketer to grow your online presence and profits.
Let's discuss your goals and how we can help your restaurant succeed online! We offer a free audit of your current digital marketing. We'll provide expert recommendations with no obligation.
Claim your free assessment today. Invest in your online success with Marketer. Take your restaurant to the next level. You handle great food, we'll handle digital marketing. Let's talk about hitting your restaurant goals today!